Collectable Items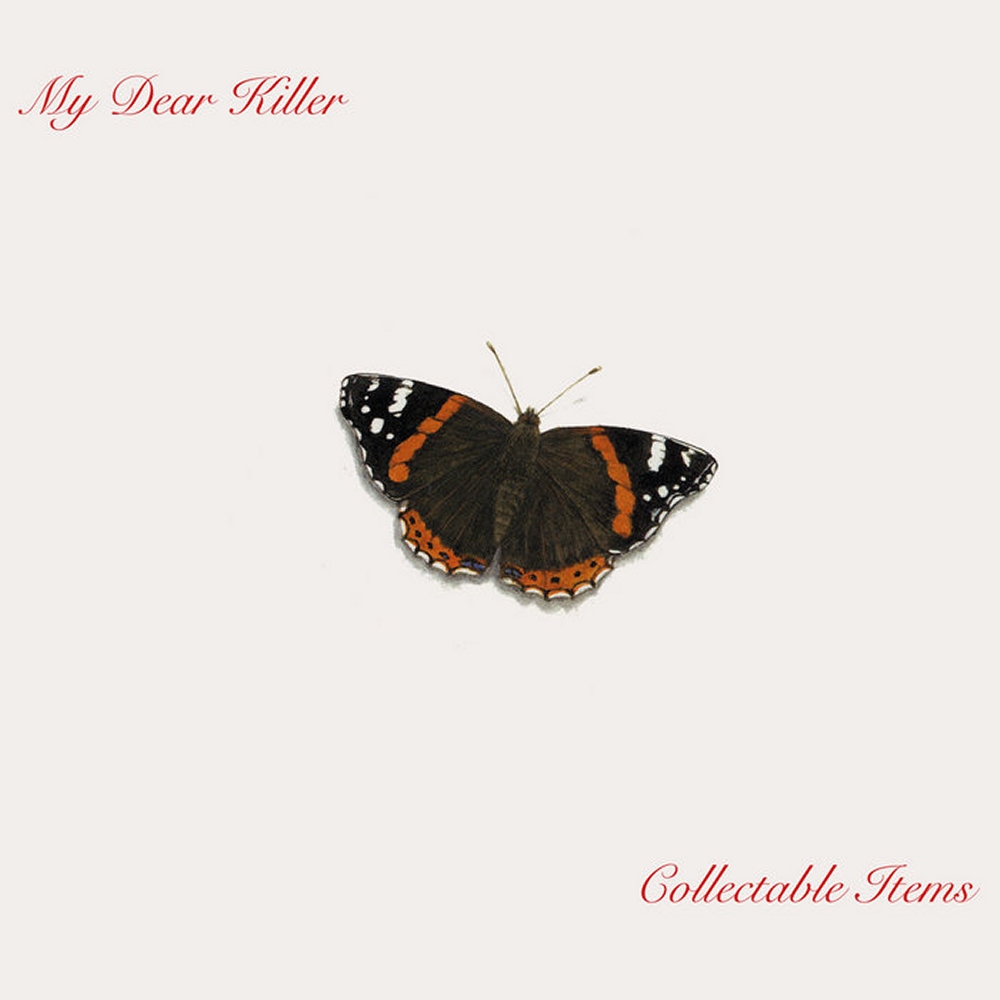 Part A
1 - Collectable items
2 - Lessons in hate
3 - The train I have lost
4 - In the Mirror
5 - The wish of winter
6 - Tram


Part B
1 - The right to ask
2 - The football player
3 - On the track
4 - The archivist
5 - Sick
6 - Stolen Teabags


My Dear Killer's 4th Collectable Items, as performed by Stephano Stephanowic (acoustic and electric guitar, voice, tape loos, analogue waveform generators) and Giampaolo Loffredo (screwdriver-prepared guitar, echo, organ), Matteo Laudati (Synthetic string arrangemnts, synth), Marta DePascalis (Synth, Keyboards), Pier Giorgio Storti (Cello) and Matteo Uggeri (Samples). Recorded and mixed by S.S. at MafarKa BoX, with the assistance of Attilio Novellino. Mastered by D. Clare at Declared Sound.
Graphic designed by fr.

Released by Boring Machines (BM99) as a CD


...to the shore all ships return...

Notes: Collectable Items is the forth, and last, extended playing by My Dear Killer. This record closes an ideal tetralogy started with Clinical Shyness (2006) and continued with The Electric Dragon of Venus (2013) and The Cold Plan (2018). It is therefore linked stylistically and thematically with the previous works, and it is then a continuation of the explorative journey across the atomisation of personal relationships in an ever-more fracture societal organisation where superficial appearances and superficiality have never been so dominants. Trough feeling lies behind, noise sometimes, sounds some others. Mainly moving pictures, and rather fast. But pictures are not what we deal with. As the album's title suggest, Collectable Items is a collection of songs which have been written over almost two decades. Some appeared previously on small-runs EPs, although they have been recorded afresh and entirely re-arranged for this release, and some where written more recently. The record can be considered as divided in two long narrative episode. The first, starts with Lessons in Hate and concludes itself with Tram, the second, starts from The Right to ask and concludes with Stolen Teabags. Which are our treasure and all that we really have. The record had a sort-of long gestation, having been recorded in its bulk, quasi-acoustic, form already in 2014 (name-code: farfalle), returning to the customary home-recordings, for (psicological) comfort and stylistic reasons. Most of the overdubs and arrangements, either from S.S. or from collaborators (to whom we are enormously grateful), were however recorded only at the end in the winter spanning 2018 and 2019, after the acoustic version has been left sitting a drawer for a while. The end results is kind of a trademark of My Dear Killer production, where the combination of guitar noises and feedbacks (MdK & Lebenswelt) constitute the principal landscape to the songs, enriched, according to the dominant mood of the piece by acoustic or synthetic strings (P. Storti, M. Laudati) organs, keyboard or synthesiser (M. De Pascalis, G. Loffredo, M. Laudati) and, sporadically, samples. Released by Boring Machines which has been hugely supportive thorugh the years releasing both Clinical Shyness (as it first record, BM1) and The Electric Dragon of Venus (BM47), adds a further element of circular conclusion. It's the conclusion of a journey. We hope you enjoyed sharing some of the stages of it in our company.



Collected Reviews.